Usually, a company needs several management tools to work at full capacity. Some choose to integrate everything in the same ERP system, as is the case with Odoo, but they can also make the connection between those already in use. An example of this is Reatek, where an integration was made between WooCommerce and Sage. This connection allowed the business to expand throughout the country.
Digital transformation has revolutionized the way companies manage their daily challenges and also some capacity to adapt. Switching tools may not be a solution for all of them, since there is a learning curve for new processes. The good news is that it doesn't have to be like that. Sometimes you just need to build bridges, and integrations are the way to do just that.
The bridge between the two platforms
Business Config developed a solution for Reatek, a company that provides services in the automotive industry. In this case, the stock management and inventory was already being done in Sage, and the online store was developed in WooCommerce (Ecommerce for WordPress). What we did was create a bridge between the two in order to make an online catalog available for their suppliers.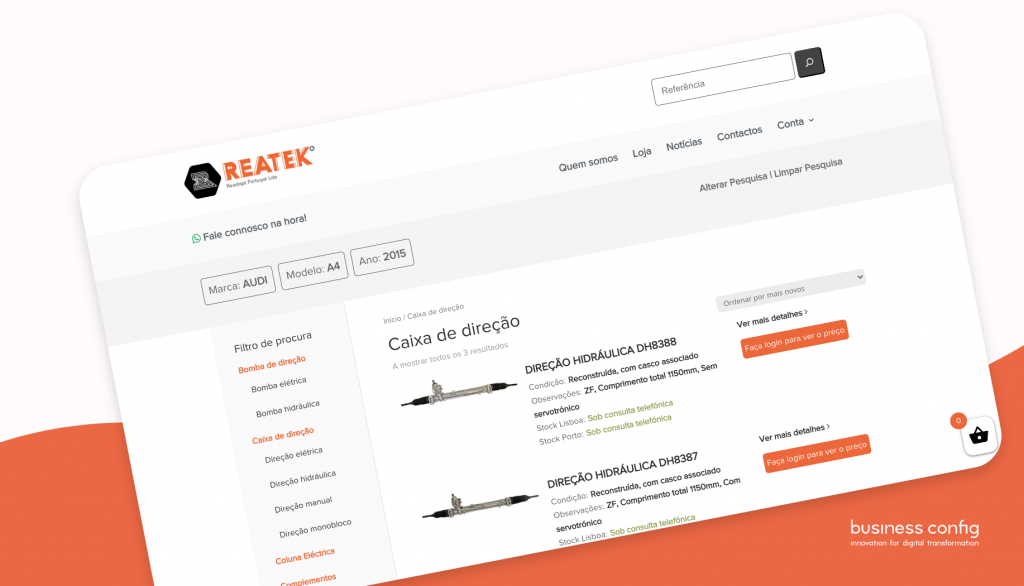 Technological solutions for this project
Through the development of scripts and robots, processes were created that allowed the client to save hundreds of hours manually inserting content.
This process allowed them to expand their business, but also the ability for their employees to have access to a search tool and information about their products and stock.
This integration allows a synchronization of the products that are in Sage with what is available in the store, ensuring that the stock is always up-to-date. Additionally, we created customized solutions taking into account the customer's needs for day-to-day tasks.
Advantages of this solutions
These solutions create greater value for companies, but also improve the productivity and profitability of teams. It makes time-consuming processes easier and saves resources by having the tools connected.
If expanding the business is your next step, we're here to help! If your ideas are still on paper, we can help make them a reality. We create tailor-made solutions for every business.