Nowadays, any service that requires the user to invest his or her money can be a time-consuming process. Providing the tools necessary to make a good choice of their investments makes it easier when it comes time to close a deal. For this reason, calculators and simulators on a landing page (or any other web page) can assist in the final decision of the leads.
Is it really that necessary for the user?
It's important for the end user to have an idea of how much he will save if he decides to buy in larger quantities, or other variables that may influence the final price. It can make the difference between closing a deal or deciding to go with the competition. Calculators and simulators are a good solution for better leads.
For instance, how often do businesses get more leads, but the second you set out the budget they disappear or lose interest? The number of leads doesn't always mean a higher sales volume. Receiving qualified leads becomes more rewarding in the long run. So, while the use of such tools is not necessary, transparency about prices can have an impact on conversion. You lose less time and increase profitability.
Would it make sense for my business to have a calculator or a simulator?
It is very common to have simulators in the market for insurance, credit and other similar services, but they can be used in almost any area of business. Whether in industry, in services (technological or otherwise) or even in the reselling business.
The decision may also depend on whether price (or any other variable) is a key factor in initiating a business relationship. If it is taking too long to prepare quotes or analyze the feasibility of a project, then it may be worth developing time-saving solutions.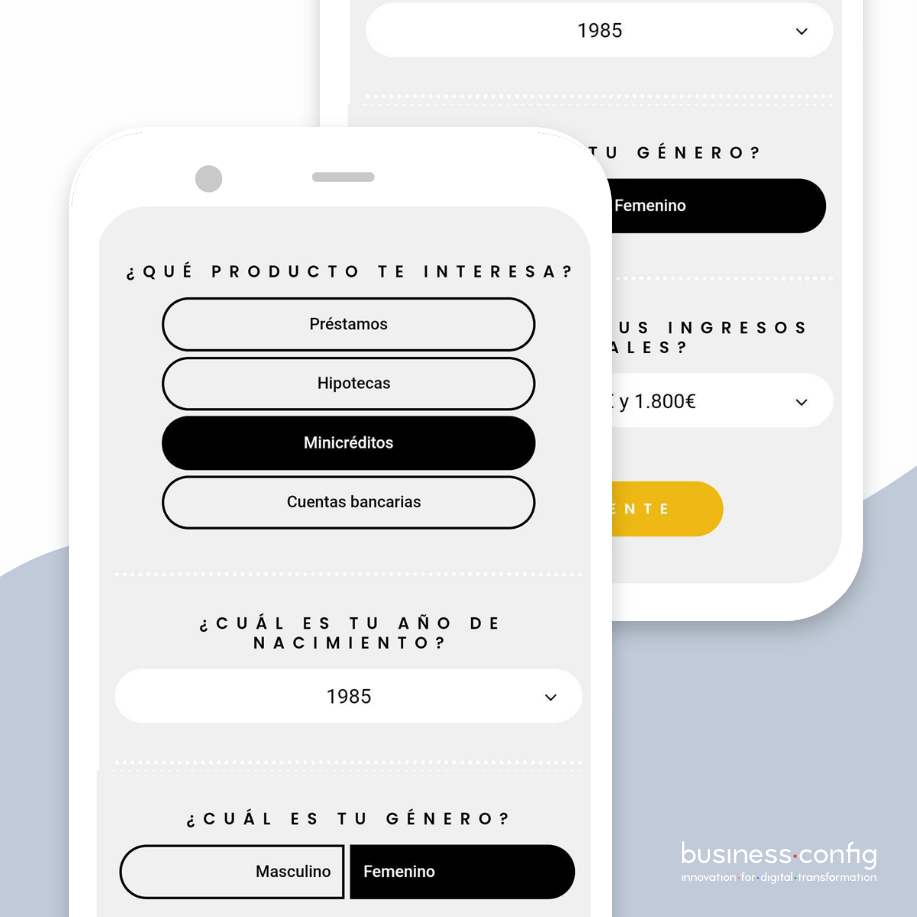 How can these type of solutions help my business?
Not always the secret is the key to the business, and potential customers don't like to be surprised in the middle or at the end of the process (with additional fees, prices that don't match the initial amount, hold-ups, etc.).
So it is important to make it clear to potential customers:
– Total payment amount to be paid,
– Feasibility in what they simulate,
– Forecast of monthly fees to be paid,
– Feasibility in accessing a certain service.
It is an advantage for the leads to feel safe about getting in touch and closing a deal with calculators and simulators.
What technologies do you use and how can this solution be integrated?
At Business Config we delivered several solutions in different technologies. But more important than the technology used, is that it makes sense for the business and brings results.
We develop credit feasibility calculators, financial health and insurance simulators.
In backend, we use technologies like PHP with WordPress, in some cases we even integrate with third party APIs that provide us with business specific values and insights. We also develop solutions in Python and Node.js, we are comfortable with any technology.
These systems are then finished in frontend, with JavaScript and CSS so that they are ready for the end user and placed on landing pages or other web pages.
When these solutions are online, the collected data can serve for future business intelligence projects.
If this kind of solution makes sense in your company, either for time management or to improve the sales funnel with qualified leads, we are here to develop the next solution.